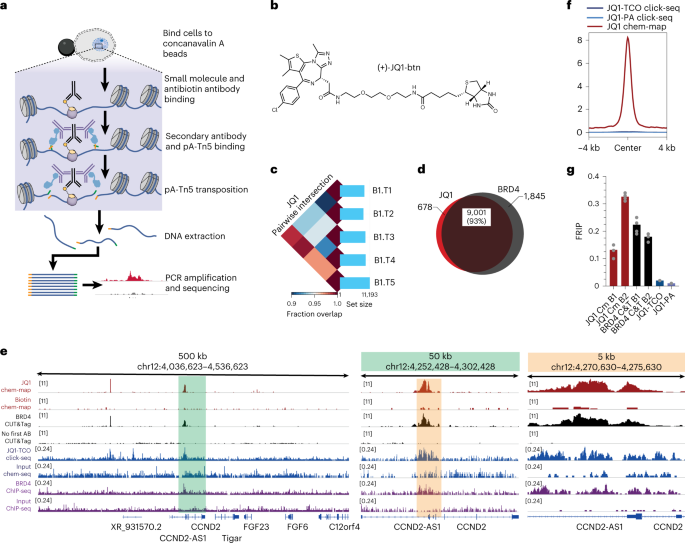 MainSmall molecules that interact with cellular DNA formed the basis for early anticancer molecules that became widely deployed in the clinic1. A greater understanding of genome structure and function has created new opportunities for intervening with biology and disease states by targeting cellular DNA or the associated proteins with small molecules. It is essential to validate target engagement for molecular probes and therapeutic drugs. Mapping where a small molecule binds chromatin can help explain the downstream genetic or epigenetic response2. However, mapping inhibitors to chromatin-associated proteins has proved challenging and is limited to a few high-affinity ligands, including the bromodomain inhibitor JQ1 and the CDK9 inhibitor AT7519 using Chem-seq or related approaches3,4,5,6. Existing methods involve the binding of small molecules to sheared chromatin followed by enrichment using an affinity tag. Such approaches require high ligand binding affinity and low dissociating rates and suffer from weak signal and high background, together with potential epitope masking upon excessive formaldehyde cross-linking. Furthermore, the requirement for large amounts of input material (typically tens of millions of cells) precludes applications involving low cell numbers or rare epitopes3. The detection of binding sites for small molecules that bind directly to cellular DNA has proved to be largely elusive. Some binding sites have been inferred by mapping downstream DNA damage response or break events7,8,9,10,11. While direct detection has been achieved for DNA minor groove binding molecules to synthetic DNA oligonucleotides12,13 and for the intercalator psoralen UV-crosslinked to DNA in cells3,14, a practical challenge for noncovalent small-molecule–DNA interactions is dissociation during washing steps and sample processing4. Therefore, many approved, widely used drugs thought to act via a DNA targeting modality have, remarkably, not yet had their cellular molecular targets validated. In situ maps of small-molecule–DNA interactions in intact cells would provide valuable insights into the mode of action of this family of drugs and enhance our ability to exploit the genome as a therapeutic target.
Herein we report a general approach, Chem-map, to establish in situ interaction maps for small molecules that bind to cellular genomic DNA or chromatin-associated proteins. We illustrate the method with three distinct interaction modalities for molecules that either target a chromatin protein, a DNA secondary structure or intercalate DNA.
ResultsChem-map of a small-molecule–chromatin protein interactionIn the Chem-map approach, a covalent affinity tag is introduced to the small molecule and exploited to recruit a transposase (Tn5) to the binding site, followed by marking the site via proximal transposition events (Fig. 1a). Tn5 recruitment to proteins has been deployed in TAM-ChIP and CUT&Tag15. We introduced a preassembled complex, comprising a biotinylated small molecule together with antibiotin primary antibody, directly into permeabilized cells enabling the small molecule to bind the target. An anti-Ig secondary antibody precomplexed with a protein A–Tn5 fusion, loaded with sequencing adapters, is then incubated with the cells. Activation of the transposome with magnesium ions then triggers the insertion of sequencing adapters proximal to the small-molecule-binding sites. Tagmented DNA fragments that mark the small-molecule-binding sites are then extracted, selectively amplified, sequenced and mapped by alignment of sequenced reads to the genome.
Fig. 1: Chem-map reveals genomic binding sites for the BET bromodomain-targeting drug JQ1.a, Chem-map workflow—in permeabilized cells, a precomplex of biotinylated small molecules (yellow) and antibiotin antibody (black) bind to the chromatin target (protein or DNA). Then a secondary antibody (purple) tethering of pA–Tn5 transposomes (light blue) was recruited to the drug binding sites. Addition of Mg2+ activates the transposomes and integrates adapters (green and orange) in the proximity of the drug-binding sites. After DNA purification, genomic fragments with adapters at both ends are enriched via PCR, which allows the genome-wide identification of drug-binding sites by next-generation sequencing. b, Chemical structure of biotinylated JQ1. c, Pairwise intersection of enriched peaks across five technical replicates (T1−T5) in a biological replicate (B1) of K562 cells. d, Venn diagram illustrating the overlap of high-confidence binding sites of JQ1 (Chem-map, red) and its protein target BRD4 (CUT&Tag, black) in K562 cells. e, Genome browser views of JQ1 Chem-map (red), biotin negative control (red) and BRD4 CUT&Tag (black) and its negative control without adding primary antibody (first Ab), compared to published JQ1 Click-Chem-seq (blue) and BRD4 ChIP–seq (purple) data at the CCND2 gene locus. Green and orange boxes highlight regions of respective close-up views. f, FRiP analysis comparing JQ1 Chem-map (Cm, n = 5), BRD4 CUT&Tag (C&T, n = 5), JQ1 Click-Chem-seq (Click-seq, different JQ1 derivatives JQ1-TCO and JQ1-PA, n = 1) and BRD4 ChIP–seq in K562 cells. g, Comparison of JQ1 Chem-map and published JQ1 Click-Chem-seq signal averaged at highest-confidence loci detected with BRD4 CUT&Tag in K562 cells. All sequencing data are normalized by sequencing depth.
Full size image
We validated Chem-map for the BET inhibitor JQ1 in human leukemia K562 cells, as JQ1 interactions have been characterized using Click-Chem-seq in the same cell line5. In parallel, we mapped the genome-wide binding sites of the inhibitor's main target BRD4 using a specific antibody and the CUT&Tag approach15. Chem-map experiments were performed with the biotinylated derivative JQ1-btn (Fig. 1b) and biotin to control for background binding of the pA–Tn5 complex. We performed two biological replicates, each with five technical replicates, to evaluate the robustness and technical reproducibility of our approach (Supplementary Table 1). In each experiment, we observed around 10,000 JQ1 binding sites and high reproducibility of Spearman correlation rS > 0.77 across replicates (Fig. 1c and Extended Data Fig. 1a,b). Next, we compared high-confidence JQ1 binding sites (Methods) obtained via Chem-map with BRD4 sites obtained via CUT&Tag and found 93% of JQ1 peaks overlap with BRD4 sites (Fig. 1d). Principal components analysis (PCA) confirmed that JQ1 and BRD4 data cluster together and are separated qualitatively from the biotin control (Extended Data Fig. 1c). Thus, Chem-map accurately captures JQ1 binding in cells. Similar observations were made in parallel experiments using the human osteosarcoma epithelial U2OS cells (Extended Data Fig. 1d).
We quantitatively compared the data quality of Chem-map to the published JQ1 Click-Chem-seq data in K562 cells5. Chem-map exhibited improved raw data quality yielding ~20-fold higher fraction of reads in peaks (FRiP) compared to Click-Chem-seq and is similar to CUT&Tag (Fig. 1e,f). We also plotted the average read counts for Chem-map and Click-Chem-seq around the highest-confidence BRD4 binding sites obtained by BRD4 CUT&Tag. Chem-map provided ~150-fold higher signal accumulation compared to Click-Chem-seq (maximum mean read count 8.17 counts per million (cpm) and 0.05 cpm, respectively) (Fig. 1g). This improvement in signal quality was observed while using 1 × 105 cells per experiment in Chem-map.
In situ mapping of DNA G-quadruplex bindingWe next sought to map the binding sites of two structurally distinct DNA G-quadruplex (G4) recognizing molecules, pyridostatin (PDS) and PhenDC3 (Fig. 2a)16,17. G4s are four-stranded secondary structures that can form in G-rich DNA sequences. They have been detected in human cells and tissues and mapped in human chromatin using antibody approaches18,19. G4s have been implicated in gene regulation, cell fate transitions, and cancers and are under investigation as therapeutic targets for small-molecule drugs20. For instance, the G4 ligand PDS has been shown to modulate transcription, cause replication stalling and induce particular patterns of DNA damage7. There is a pressing need for a methodology to confirm that such molecules actually bind to G4 targets in situ and to elucidate those binding sites in different biological contexts. This is particularly relevant as the endogenous landscape of cellular G4 that are detectable appears to be only a small fraction of possible G4s in the genome18. Attempts to directly map the binding sites of G4 ligands in cells have been unsuccessful. Enrichment sequencing via pulldown of isolated genomic DNA only provided evidence of ligand binding to repetitive telomeric elements21. Indirect evidence has arisen from mapping surrogates such as γH2AX sites in the region of strand breaks caused by the binding events of G4 ligand PDS7. A likely limitation is small-molecule dissociation from the DNA target by physical separation during washing steps leading to low recovery and poor signal. Indeed, single-molecule imaging studies have shown that ligand binding lifetime to G4s in live cells is in the order of seconds22. We reasoned that a transposome-based method (Fig. 1a) might detect dynamic, noncovalent DNA–small-molecule interactions where the lifetime is sufficient for catalytic adapter insertion in situ.
Fig. 2: Chem-map reveals genomic binding sites of DNA G-quadruplex binding molecules in human K562 cells.a, Chemical structure of biotinylated G4 ligands PDS and PhenDC3. b, Genome browser views of Chem-map for PDS (red) and PhenDC3 (blue) compared to CUT&Tag data for the G4 antibody BG4 (black) at the KRAS locus. Sites that fold into G4 structures in vitro (OQs) are highlighted in purple for the plus and minus strands. The orange box highlights the regions of a close-up view. c, Venn diagrams illustrating the overlap of binding sites for the G4 ligand PDS and OQs. d, Hierarchical clustering of the Spearman correlation matrix for PDS Chem-map, PhenDC3 Chem-map and BG4 CUT&Tag. e, Venn diagrams illustrating the overlap of binding sites for the G4 ligands PDS and PhenDC3 and BG4.
Full size image
Biotinylated G4 ligands PDS-btn and PhenDC3-btn were synthesized with a flexible, long PEG4 linker to minimize steric hindrance to recognition of the antibody binding and subsequent targeted DNA tagmentation (Fig. 2a). A fluorescence resonance energy transfer (FRET)-melting assay was employed to validate the binding of the tagged G4 ligands to different G4s (Extended Data Fig. 2a and Supplementary Tables 2 and 3). We employed both PDS-btn and PhenDC3-btn in our Chem-map protocol in K562 cells, employing biotin as a negative control and performing two biological replicates each with five technical replicates. For both G4 ligands, we obtained high-quality maps revealing about 10,000 high-confidence binding sites for each of the two G4 ligands (Fig. 2b). It was gratifying to observe that PDS and PhenDC3 binding sites showed considerable overlap (90% for PDS and 76% for PhenDC3, respectively) with where G4s can potentially form experimentally observed G-quadruplexes (OQs) based on G4-sensitive sequencing (G4-seq) of purified human genomic DNA (Fig. 2c and Extended Data Fig. 2b)23. We also compared the small-molecule-binding sites to maps of endogenous G4s detected in chromatin using the G4 antibody BG4 (Fig. 2d)24. We observed a strong overlap of high-confidence binding sites (Fig. 2e) and signal correlation when comparing BG4 antibody and G4 ligands with Spearman correlations (rs) of 0.74 and 0.87 for PDS and PhenDC3, respectively (Fig. 2d). Similarly, differential binding analysis revealed that PDS and PhenDC3 bind primarily to the same cellular G4 sites (Extended Data Fig. 2c). Notably, PCA analysis confirmed clear qualitative separation of the biotinylated probes from the biotin control experiments confirming that signal enrichment is caused by the small molecule rather than nonspecific interactions of Tn5 (Extended Data Fig. 2d). To rule out potential fixation artifacts25, we repeated PDS Chem-map in unfixed K562 cells observing an overall consistent peak distribution (~10,000 high-confidence peaks, 88% in the OQs and 75% overlap with binding sites in gently fixed K562 cells) (Extended Data Fig. 2e,f). Furthermore, to confirm that Chem-map reflects small-molecule-binding sites in live cells, we treated K562 cells with unmodified PDS (4 µM for 3 h) before PDS Chem-map (Extended Data Fig. 2g−i). We observed a drop in recovered DNA material and a considerable reduction in peak numbers (~6,000 sites (60%) lost compared to untreated).
These data obtained within human cells confirm that PDS, PhenDC3 and BG4 are specific to the G4 family of DNA structures and capable of binding a variety of G4 sequences and structural sub-types, consistent with biophysical studies18,23. Notably, the small-molecule Chem-map data provide vital cross-validation of cellular G4 sites previously detected using the BG4 antibody.
Chem-map reveals landscape of doxorubicin–DNA interactionsWe evaluated the interactions of the clinically approved drug doxorubicin, which is thought to act by targeting DNA but has not yet been directly mapped to genomic DNA in cells. Doxorubicin belongs to the anthracycline class of antitumor antibiotics. Anthracyclines are generally considered to be DNA intercalators that can inhibit the action of topoisomerase II and can form reactive hydroxyl radicals proximal to DNA, leading to DNA damage and cellular cytotoxicity1. Around 1 million cancer patients annually receive treatment with doxorubicin or its variants. However, despite much research and clinical use over five decades, its molecular mode of action is, somewhat surprisingly, still not well understood26.
For Chem-map, it was necessary to design an appropriately tagged derivative of doxorubicin. We evaluated two points of conjugation to doxorubicin at 14-OH and 3′-NH2 resulting in biotinylated derivatives Dox-btn1 and Dox-btn2, respectively (Fig. 3a). Next, we examined the cellular distribution in U2OS cells using fluorescence microscopy utilizing the intrinsic fluorescence of doxorubicin (Fig. 3b). Notably, doxorubicin and Dox-btn1 were predominantly accumulated in the nuclei, whereas Dox-btn2 was mainly located in the cytoplasm, in agreement with a previous study27. Negligible amounts of DNA were recovered using Chem-map with Dox-btn2 in K562 cells, whereas Dox-btn1 recovered substantial amounts of DNA (Extended Data Fig. 3a), consistent with its nuclear localization.
Fig. 3: Chem-map reveals an open chromatin binding preference for doxorubicin.a, Chemical structure of biotinylated derivatives of doxorubicin. b, Microscopy analysis of U2OS cells visualizing nuclear enrichment of doxorubicin derivatives. Live U2OS cells were treated with doxorubicin and its derivatives for 6 h. Nuclei were stained with Hoechst 33342. BFB was used for visualization of nuclei (blue) and RFB was used for visualization of doxorubicin and its derivatives (red). Scale bar, 100 μm. Experiments were repeated independently three times. c, PCA analysis showing the distinct binding profiles of small molecules that have different protein and DNA targets in K562 cells. d, Venn diagram showing the overlap of doxorubicin binding sites with open chromatin mapped by ATAC-seq. e, Genome browser views of doxorubicin Chem-map binding sites (red) compared to a biotin control (gray) and ATAC-seq (black). BFB, blue-light filter cube; RFB, red-light filter cube.
Full size image
Biophysical experiments show that doxorubicin intercalates double-stranded DNA preferentially at a GC base pair28, which does not in itself inform genomic binding sites. Chem-map data from two biological and five technical replicates in K562 cells revealed 14,000 high-confidence Dox-btn1 binding sites (Fig. 3e and Extended Data Fig. 3b), with an excellent signal-to-noise ratio (Extended Data Fig. 3c). We compared Dox-btn1 binding sites to the binding sites of JQ1, PDS and PhenDC3, each measured by Chem-map. Both PCA (Fig. 3c) and differential binding analyses (Extended Data Fig. 3d) revealed distinct binding profiles for the three types of ligands, caused by the different target binding modalities for the respective probes. The 14,000 doxorubicin peaks were predominantly (95%) in open chromatin regions, as defined by ATAC-seq29 (Fig. 3d,e). Given that Tn5-based approaches can map features in both euchromatin and heterochromatin15, enrichment of Dox-btn1 at open chromatin is unlikely to be an artifact of Tn5 accessibility. Notably, we found Dox-btn1 binding sites particularly enriched at promoters and 5′-untranslated regions (Extended Data Fig. 3e), which helps explain why doxorubicin preferentially induces DNA double-strand breaks near promoters30.
HDACi sensitizes cancer to doxorubicin by augmenting bindingThe dynamic nature of chromatin status makes it difficult to predict and control the response to chromatin-targeted drugs in cells4. Chem-map enables the measurement of changes in drug binding profiles to help understand the mode of action and optimize their deployment. To exemplify this, we applied Chem-map to measure how epigenetic modulators can enhance DNA–drug interaction to create drug synergy. Specifically, we investigated how doxorubicin binding in cells changes upon treatment with a histone deacetylases inhibitor (HDACi). Histone deacetylases (HDAC) are key chromatin modifiers and commonly dysregulated in cancers, making them promising therapeutic targets for cancer. Preclinical and clinical studies show that HDAC inhibition can sensitize the response of cancer to doxorubicin treatment31,32. We chose to use tucidinostat (chidamide), a selective inhibitor of class I HDAC1−HDAC3 and class IIb HDAC10, which has been clinically approved for peripheral T-cell lymphoma and adult T-cell leukemia-lymphoma33,34. Preclinical and clinical trials of tucidinostat in combination with doxorubicin are ongoing35 (NCT04231448). We treated K562 leukemia cells with tucidinostat (1 μM) for 72 h, followed by Chem-map with Dox-btn1. From three biological replicates, each with five technical replicates, we observed excellent reproducibility and clear separation of tucidinostat treatment and vehicle control (Extended Data Fig. 4). Tucidinostat treatment resulted in a substantial shift in Dox-btn1 binding events (30,722 substantially changing sites), mainly comprising stronger binding events and new binding sites, as judged by differential binding analysis (Fig. 4a,d). More doxorubicin binding events were detected at sites that had originally exhibited closed chromatin in the absence of tucidinostat treatment (22% in tucidinostat compared with 10% in vehicle group), consistent with considerable chromatin remodeling (Fig. 4b). In addition, new peaks observed following tucidinostat treatment were mainly located at promoters and 5′-untranslated regions (Fig. 4c,d). Thus, HDAC inhibitors likely sensitize cancer cells via expanding existing drug-binding sites and establishing new interaction sites to enhance the overall volume of drug–target interactions. These molecular data explain clinically relevant drug synergistic effects31,32.
Fig. 4: Chem-map reveals response to drug combinations.a, Differential binding analysis showing differences in Dox-btn1 Chem-map peaks for tucidinostat-treated (1 µM, 72 h) and vehicle-treated (0.1% DMSO, 72 h) K562 cells. Red dots represent sites where the binding is substantially different (FDR